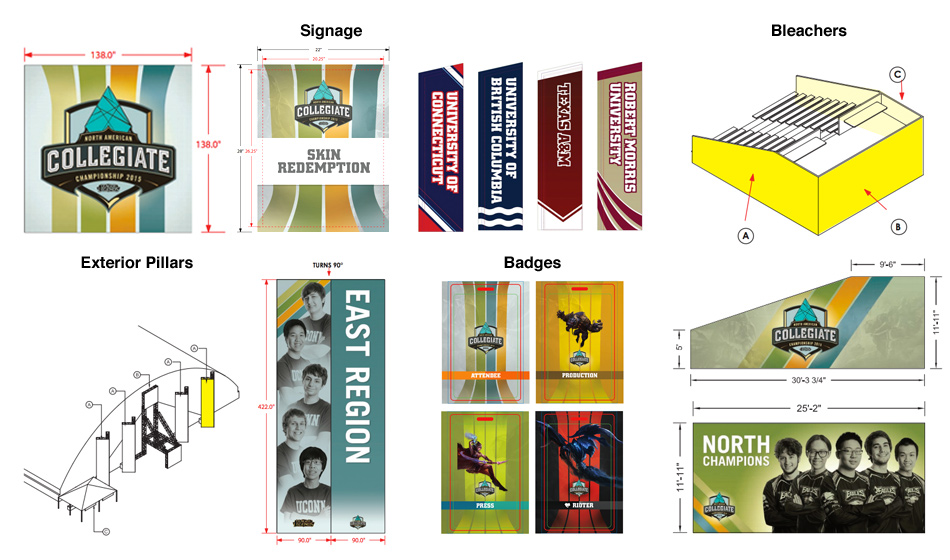 The North American Collegiate Championship (NACC) is Riot Games' huge college tournament that spans the entire academic year. Teams were split up into four regions with regional tournaments that determined the top four North American teams. Those four teams advanced to the NACC finals, which were held live at a hangar in Santa Monica.
To promote the finals, Riot Games tasked Haven Agency with creating an interactive map website that would allow users to intuitively find their school and see their teams. Users could also check out their biggest rivals to see if they had teams as well. Each region had a special screen that shared information about that region's winning team, as well as other fun stats and trivia about the various teams within the region.
To promote the regional events and the NACC finals, Haven was also tasked with creating online banner ads that Riot Games could place on various social media outlets, on the main League of Legends Website, and other places throughout the Internet.
For the live event, we designed numerous banners (some over 36 feet tall!), posters, and signs that energized the crowd and encouraged team support. We also designed flags for each of the final 4 teams, backdrops for the on-stage displays, backdrops for the online streaming broadcast, and badges to differentiate between staff, security, press, and attendees. Some of our team members were on-site for the event, and it was really cool for them to see all of their hard work on display throughout the venue.